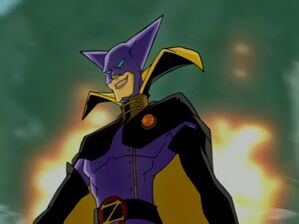 Zarek is one of the S-Force's old enemies and according to Coop, is a "point-headed chump".
Biography
Edit
Zarrek captures planet Sarus and tried to throw the S-Force into the Infinity Zone. Just in time, Coop came to their rescue and managed to destroy the Infinity Zone. With the help of the S-Force, Coop destroyed Zarek's robotic army and annihilated the Star Serpent by stabbing its head with its own stinger. After his defeat, Zarek was sent to off to a Sarus prison.
Appearance
Edit
Zarek is a direct homage to Berg Katse (or "Zoltar", as he is known in the dub), a major enemy of the Science Ninja Team Gatchaman, whom the S-Force is partly based on.
Community content is available under
CC-BY-SA
unless otherwise noted.