MEGAS XLR was an American animated action comedy that aired on the Toonami block of the Cartoon Network channel. The cartoon was created by Jody Schaeffer and George Krstic. Chris Prynoski via his studio Titmouse, Inc. served as the animation director.
The show was originally entitled "LowBrow" and was premiered during a summer contest by Cartoon Network in August 2002; the contest was held in order to determine what they would show as a new Cartoon Cartoon. Megas XLR won that contest and debuted on May 1 2004, and was cancelled on April 26 2005, Later in three months ago after the final episode aired.
MEGAS XLR



Genre

Format

Series

2

Episodes

26 (List of episodes)

Duration

26 minutes
Development and Production
[
]
While playing video games, Jody Schaeffer and George Krstic came up with an idea of making an animated series in which the main character would use his video gaming skills to pilot a giant robot[1]. Much of the series is inspired by Japanese mecha anime which the two grew up watching, with the general art style being inspired by both Japanese and Western animation. The humour often pays homage or mocks conventional tropes found in anime and videogame culture, as well as the slacker lifestyles of Coop and Jamie commonly associated with people who enjoy such things.
Krstic's first experience with television animation was MTV's Downtown, where he served as story-editor and writer. Being awarded an Emmy nomination allowed and motivated him to pursue his own series - a show that would have everything he loved from his youth: robots, time-travel, aliens, and over-the-top comedy.
The pilot short LowBrow was shown in 23-25 August 2002 as part of Cartoon Network's Cartoon Cartoon Weekend Summerfest to decide which pilot would be chosen to be developed into the next Cartoon Cartoon[2]. The competing pilots were followed by a sneak peek of the then-upcoming Cartoon Cartoon Codename: Kids Next Door. Out of the (at least 8) competitors, LowBrow managed to be the most popular among viewers by the event's end, and thus was picked up and greenlit to become a full series.
Megas XLR was produced by Cartoon Network Studios; Titmouse, Inc. animated the main title and did most of the animation work on Season 1.
After being delayed multiple times from its scheduled debut in December 2003, Megas XLR finally debuted on the Toonami block on 1 May 2004. However, due to being plagued with production problems it was cancelled due to executives at Cartoon Network not getting it and wanting to move to more live action series to compete with Disney and Nickelodeon (this decesion backfired anyway because the live action stuff Cartoon Network put out was utterly terrible). Jody Schaeffler on a Waffle Press interview [ https://youtu.be/DH-GQogWtCA] debunked the fact that Megas XLR had low ranting and it was actually a popular show (8.2 on IMDb) , the series was unfortunately cancelled after two seasons, with the final episode airing on 15 January 2005. Megas XLR is now considered a beloved cult classic. But the series was sadly written as a tax loss, therefore it cannot be rewned for continuation.
Reruns of the show continued to air sporadically from 16 January 2005 to 24 June 2006. During this time, it was moved to the graveyard slot of 3:30 AM EST/PST on Saturday mornings, before being removed from the network altogether, and it hasn't appeared on North American TV broadcasting since.
A similar event happened to the Toonami original series IGPX, but it was able to be un-written off due to a very complex production deal. However the same rules did not apply for Megas, so the same method could not be used to bring Megas back to the airwaves.
Reception and revival attempts
[
]
The series was met with positive reception[3][4], and was ranked at Number 4 on ToonZone's "Toons of the 2000s: Top 5 Cartoon Network Originals"[5]. It has been commonly alleged that most of the broadcasting network management including its CEO did not fully understand the show's sense of humour, what it was parodying, or where it derives its references from; alongside some viewers who were not fans of or are otherwise not familiar with anime culture or videogames who felt out of the loop, which eventually added to its demise (in comparison to say, Teen Titans, which only had its animation style to derive from anime; Megas XLR derived from entire tropes and cliches that required knowledge of anime to understand). There have been various fan efforts and petitions to revive the show since its cancellation, despite only having catered to a niche audience.
In 2012, Chris Prynoski and George Krstic got back together with the team that worked on Megas XLR to work on a new series for Disney XD called Motorcity, filled with the same over-the-top action, '80s and '90s spoofing, and sense of humour envisioned in Megas XLR. The project lasted for only one season.
In early 2013, fans on Twitter started using the hashtag #BringBackMegasXLR, prompted by co-creator George Krstic mentioning that he was talking with Cartoon Network executives about reacquiring the rights to the series in order to bring back the show on their own. Seeing as Megas XLR had been written off by Cartoon Network, the animation studio Titmouse, Inc. would have to get the rights to the show. On 29 April 2013, Krstic posted a tweet saying that he and Chris Prynoski were having a meeting at Titmouse, Inc. to discuss bringing back the show, along with Motorcity[6]. However, in a 2014 interview George Krstic was quoted as saying "Megas was written off as a tax loss and as such can not be exploited, at least domestically, in any way, or the network will get into some sort of tax/legal trouble."[7]
As of 8 February 2019, Krstic has stated that the rights to the series had successfully transferred ownership to Warner Bros, though at this point it's too early and uncertain to tell what it could mean for the show's future [8].
Potential video game
[
]
In December 2012, a series of messages were posted on Twitter by series director Chris Prynoski hinting at production of a game based on the series with the videogame company Valve. Prynoski claimed that Valve had shown possible interest in creating a videogame related to the show and/or Disney's Motorcity. No official comment on the project had been made by Valve or Cartoon Network[9]. However in 2015, Prynoski mentioned on Twitter that ultimately he had been unable to sort out the licensing needed.[10]
Premise
[
]
In the distant future of 3037, Earth is fighting a losing war against a hostile alien race known as the Glorft. In a last desperate attempt to save the planet, the human resistance steals a prototype giant robot from the Glorft and modifies it into a powerful war machine, renaming it MEGAS (Mechanized Earth Guard Attack System). The idea is to use an experimental time-travelling device called a time drive to send MEGAS and its assigned pilot, Kiva Andru, two years into the past to the Battle of the Last Stand, which was the last major offensive fought by humanity against the Glorft. Humanity lost that battle, but the members of the resistance, Kiva in particular, believe that MEGAS can tip the scales and hand the Glorft a decisive defeat.
Before the plan can be executed however, an attack by the Glorft forces the human resistance to send MEGAS back in time before proper preparations are made. MEGAS's head is blown off in the attack and its time drive is damaged, and the crippled mecha is inadvertently sent all the way back to a junkyard in 1930's New Jersey. It remains there and languishes over the decades until it is discovered by a slacker mechanic, Harold Cooplowski, around the year 2004. Coop turns MEGAS into a hot rod project by completely restoring and refurbishing it, giving it a flaming paint job, replacing its missing head with his classic muscle car[11] and renaming it XLR (for eXtra Large Robot).
While Coop is showing off the mecha to his best friend Jamie, Kiva arrives to the 21st century to retrieve MEGAS, and when she finds she is unable to pilot it because of Coop's modifications, she begrudgingly decides to train Coop, who is now the only person who can pilot it. However, the Glorft have followed her through time and much to Kiva's chagrin, it is now up to Coop, Jamie, and Kiva to team up and defend Earth against the Glorft and various other threats... if Coop does not accidentally end up destroying it first, that is.
Characters
[
]
Since Megas XLR has many minor characters, especially those that are unique to one episode, only the main ones are listed below. However, one can visit the Characters Category for a list of all the characters that appeared in the show.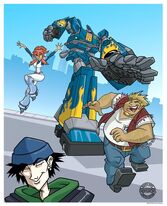 Harold Cooplowski - The current pilot of Megas and the main protagonist of the series is a video game loving, junk food eating bum who lives in Jersey City. His life is changed one day when he discovers a wrecked giant robot in the junkyard sitting there for over 70 years, and decided to transform it into his own ride. Despite not seemingly the best looking as a fighter driving an advanced mecha; his years spent playing videogames of all types helped him master the art of competing in real fights. His main fighting techniques are derived from numerous wrestling, dancing, racing, and other combat games. Although Coop can be a clever fighter, he prefers the gung-ho approach of smashing now and asking questions later, especially if something gets in the way of what he wants. Most of his amazing heroics are accidental, and he is prone to end up destroying more than he protects due to his recklessness. He is ultimately just a simple guy who wants to still enjoy his way of life (without all the interruptions in the way) and is generally the most laid back of the three[12].
Kiva Andru - The originally intended pilot and engineer of Megas prior to Coop's extensive modification. Hailing from from over a thousand years in the future, she finds herself stuck in the present due to the destruction of Megas's time drive. She has a no-nonsense personality, is knowledgeable, tough, and fearless, but adopts a small sense of humor and warms up a little to living in the 21st century as the series progresses. Kiva is usually confined to the back seat, operating a holographic panel to give advice on an opponent's weaknesses, navigational directions, or feedback on Megas's system status. She can be viewed as Coop's co-pilot. Kiva repeatedly demonstrates high skills in both robotic and hand-to-hand combat, usually being the muscle of the trio.
Jamie - The skinny smart-aleck slacker, wannabe cool guy, and Coop's lifelong friend. He is always trying to get girls, often imagining himself being adored by numerous attractive females, but often has little to no success, even lying at one point that he was Coop to do so. Personality wise, Jamie is weak and cowardly most of the time and often runs at the first sign of danger, only showing bravery when his friends are gravely threatened. Compared to Kiva and Coop, his contributions are minimal, usually limited to snarky comic relief. Really, Jamie is just along for the ride, often enjoying the thrill of Coop's misguided adventures[13].
Gorrath - The primary antagonist of the series. Warmaster Gorrath is the head of the warmongering Glorft cyborg-cephalopod alien race. Gorrath followed Kiva and led his army back in time to the past to try to retrieve Megas (or as the Glorft call it, the Avatar prototype). Because of his rash actions, he is trapped in the past just like Kiva, unless he captures the time drive within Megas. He hates Coop for thwarting him multiple times and often launches attacks to try to kill him, reclaim Megas, and conquer Earth, but always fails in some way or another, usually because of sheer luck on Coop's part.
Episodes
[
]
Main Article: Megas XLR Episode Guide
Both seasons have a total of 13 episodes. Each episode had an average runtime of 26 minutes.
The intro theme is "Chicks Dig Giant Robots", performed by Ragtime Revolutionaries
Appearances in other media
[
]
The Megas XLR cast join the many other characters involved in numerous animated bumper shorts during Cartoon Network's "Toon City" era. Megas itself is rendered as a full CGI model in the bumpers its featured in.
Coop was an NPC in the MMO online game Cartoon Network: Universe: FusionFall. A Nano of Megas is also featured if the player defeats Fusion Coop. Goat's Junkyard is one of the explorable areas of the game and Megas itself appears as part of a platform structure, covered in Fusion Matter to prevent it from fighting off Fuse enemies as robots similar to it were used to repel Fuse from the Glorft homeworld.
Coop and Megas's flaming eyeball decal appeared on Cartoon Network's 20th anniversary poster.
Kiva made a cameo appearance in the OK K.O.! Let's Be Heroes episode "Crossover Nexus" that aired on 8 October 2018, as part of a dedicated homage to Cartoon Network's 25th Anniversary.
Merchandise
[
]
At least two toys of Megas are known to exist: a non-articulate figure on a black circular base labelled "Kiva's Drone", and a promotional action figure that was sold on the old Cartoon Network website under its pilot name Lowbrow.[14] Both figures are incredibly rare due to being produced in extremely few numbers. Very little merchandise was ever made for the show. In 2007, there was a Kids Meal promotion with Hardee's in the Middle East that involved 4 toys. There was also a promo DVD released with a graphic novel called, "JPA: Jam-Packed Action'", and there was a JuiceBox video cartridge that contained 2 episodes, "Test Drive" and "All I Wanted was a Slushie".
Trivia
[
]
Had the show managed to continue on a third season, one of the stories considered was a revelation that Coop is somehow involved or responsible for the creation of the Glorft.
From TvTropes's Screwed By The Network article: "Despite the show clearly being high in viewer ratings, it wasn't renewed for a third season because changes in management and the CEO apparently not "getting it". If that wasn't bad enough, the show was written off and now can no longer be legally aired on the network (it was a miracle that characters from the show could make background cameos in the bumpers during CN's 20th anniversary and Kiva in the OK K.O.! Let's Be Heroes episode "Crossover Nexus", but that is sadly it) and likewise could never get a DVD release either, essentially leaving the show in internet limbo. Even years later, when the creators tried to get the show back for Toonami's revival, they were answered with a note essentially telling them that CN was in no way interested in bringing back the series. Considering how determined CN is about keeping the show from coming back, you'd think someone there had some sort of grudge against this series."
Gallery
[
]
Links
[
]
References
[
]